O Nas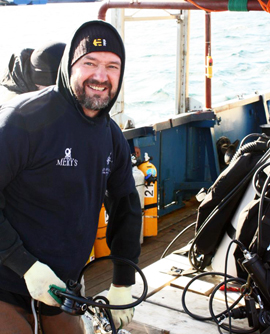 Operating for a long time on the European market, Trojan has introduced innovative solutions to the diving world. Based on many years of experience and passion for diving, Tomasz Trojanowicz, the founder of the company, created unique products that make technical and professional dives safer and more comfortable.
Trojan produces canisters with E / O cables for heating or torches. The canisters are made of Derlin or stainless steel. We will get them with various battery packs: from 10 to 31 Ah.
The standard size will be kept. There are also trays with two switches and two E / O cables.
On order Trojan creates stationary containers for batteries with a capacity of up to 100 Ah, necessary in habitats or during long decompressions. The company has also produced a device for powering the diver's heating - energy is supplied
50-meter cable from the surface. The company has the most modern second-generation thermoregulators available. The valve mechanism is made of stainless steel and equipped with a wet E / O connector. It has the lowest profile on the market - it is only 20 mm. The internal cable of the thermo valve is secured with a strain relief that protects it against damage. In addition, it also has a large ergonomic button made of stainless steel that increases the comfort of use. The unique design of the inner ring and cap guarantees the highest product quality.
Another innovation of the Trojan brand is the second generation thermoconector with an advanced internal cable protection system
before breaking and breaking. It is compatible with the Apex add-on valve and has a watertight E / O cord connection and an internal ring and cap structure that allows the air to be spread horizontally.
With a view to facilitating the sponsorship or shooting of the buoy, the Trojan offers two types of reels that complement
department of thermoelectric products. The mini spinning wheel combines the current advantages of bobbins and reels, ie: small size
and ease of use for both left- and right-handers. Bobbin owes innovation to the new approach to the role of karabiner. It no longer serves only as a fixing, but also as an extension of the handle. Medium reel with horizontal spool
is a construction designed for not very deep penetrations of caves and wrecks. There are 100 m of reels on the reel. Handy, neat and durable, with a locking screw made of stainless steel.